We are very sorry that we were not able to perform Gioachino Rossini's Elisabetta, Regina d'Inghilterra.
The decision was not made lightly and only after lengthy discussions with the Huntington Avenue Theatre Company. Every effort was made by all parties to go forward with this weekend's performances, but circumstances beyond anyone's control made that window close and the theatre has decided to cancel performances in all of their venues for the foreseeable future.
While we are disappointed to not share this amazing production with our audiences, your safety and the safety of our performers and staff is our priority.
For your reading pleasure, here is link to our program book, which includes information about our talented cast and creative team, a note from the stage director and the program notes.
Enjoy!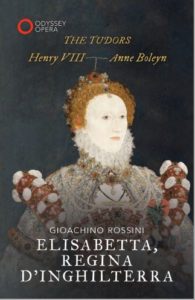 Elisabetta, Regina d'Inghilterra Program Book