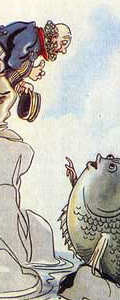 We are a small but energetic bunch here at Odyssey.  We have to be!  Because (forgive the pun) you never know what role you might be playing today.
What am I?  Well lately I'm a Music Detective (extraordinaire!!).  And I've been on a crazy journey.  When one works for a Company whose mission is to perform 'underperformed' works, the challenges can be many.
Let's start with finding the music.  Locating a score for something performed once (in 1970 – by the Opera Company of Boston, conducted by the composer, directed by Sarah Caldwell).
The Opera in question is The Fisherman and His Wife, based on the Grimm's fairytale, composed by Gunther Schuller, libretto by John Updike.  Commissioned by the Junior League of Boston.  Clearly embraced – celebrated – in its short life.
Our mission – to bring this forgotten work back to the concert hall.
The score we found.  In fact, multiple copies of the score – all hand written.  Orchestra parts (also hand written) ordered from the publisher.  Check.
Study the score.
**
The biggest surprise is the indication of an electronic component in the form of pre-taped something, to appear in Scene IX.  This is the scene where the disgruntled Wife has been granted the status of King (she quickly decides she'd rather be The Pope – why not, when you have a magic Fish at your disposal?).  A copy of the libretto (from John Updike's typewriter!) is filled with notes about this tape.  Manipulated singing and speaking from the chorus – to sound like "MONSTROUS OVERWHELMING CHANT!"  From speakers located throughout the theater.  Magic!
Emails from the publisher indicate they have no tape.  Can we find it??
Also found – documents referring to a film made of this opera that aired on WBZ.  Amazing considering the opera received only one series of performances!  Onward.
Multiple inquiries made to people affiliated with WBZ during that period.  Many basements turned upside down looking for a copy of the film.  Alas.  Nothing.
Then a break – Sarah Caldwell's archives are at the Gotlieb Archives (BU).  Trip to Boston.
Post by Linda Osborn, Artistic Administrator for Odyssey Opera of Boston.
For tickets, visit www.bmop.org or call 617-585-1260.