Everyone is excited as we have our last run of the show in the rehearsal room, sitz and then head into technical rehearsals this weekend for our upcoming production of Giovanni Pacini's Maria, Regina d'Inghilterra. We asked our cast their thoughts on the production and rehearsal process so far!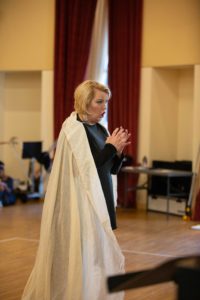 "One of my favorite things is the rehearsal process. I love research and then diving into the story and making discoveries about my character. I also love discussing and creating a back story and building the relationships between characters. Diving into the text, finding subtext and -after "playing" for a while- making specific choices about how I will sing a certain phrase, is tons of fun!"  -Amy Shoremount-Obra (Queen Mary I)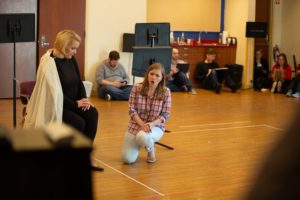 "Discovering this piece and these characters as a cast/team has been engaging and thought-provoking. I so appreciate that we can ask each other questions about character motivations and explore different interpretations both dramatically and musically. It's a rare and wonderful experience to work on a "new" opera from the 1840s!" -Alisa Jordheim (Clotilde Talbot)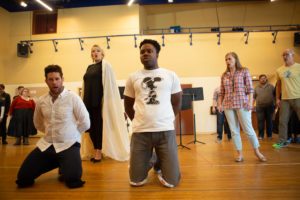 "How lucky are we to share in the gifts of such beautiful and seldom heard music? This cast and production team have inspired a rare and gorgeous bel canto opera that I will certainly never forget. " Kameron Lopreore (Riccardo Fenimoore)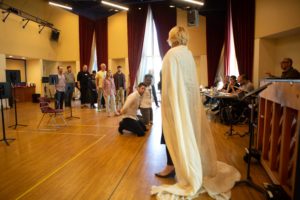 "It is always so much fun doing cool music with old friends!" -Leroy Davis (Ernesto Malcom)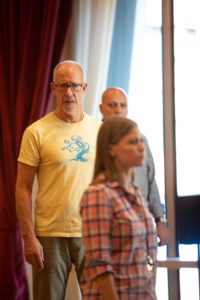 "After Pacini I want to sing in a comic opera with this same cast because they make me laugh so much" -James Demler (Gualtiero Churchill) 
Have you seen our latest video from rehearsals and see our cast in action? Click here to watch now!
Buy your tickets to this royal event!
Photos by Ball Square Films