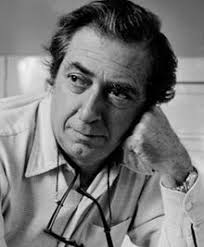 Born Nicodemo DeGioio in New York City to Italian immigrants, Norman Dello Joio was first exposed to piano and organ under the tutelage of his father. As a teenager, he continued organ studies with his godfather, Pietro Yon, who was organist at Saint Patrick's Cathedral. By age 14, Dello Joio had begun his musical career as an organist and choir director at the Star of the Sea Church on City Island in New York, where continual exposure to traditional Catholic liturgy would firmly establish many of his foundational influences.
Studies at All Hallow's Institute (1926 to 1930) and the College of the City of New York (1932 to 1934) led Dello Joio to seek more formal musical training at the Institute of Musical Art (1936). Then, in 1939 at age 27, he was accepted at the Juilliard School, receiving a scholarship and studying composition with Bernard Wagenaar (1939-1941). Independent studies with Paul Hindemith in 1941 at Tanglewood and Yale University decisively defined Dello Joio's compositional perspective. His neoclassical technique integrated 17th and 18th Century forms with contemporary melodic fascination and rhythmic dynamism, resulting in textures that are seemingly spontaneous and creatively magnetic.
Throughout his 80-year career, Dello Joio held multiple faculty positions. His 1945 appointment to the composition faculty of Sarah Lawrence College enabled him to dedicate more time to composing. As a result, Dello Joio's reputation quickly expanded due to several important commissions, culminating in a symphony, The Triumph of Saint Joan Symphony for Orchestra (1951; publ. 1952), which was derived from an opera in three acts he had withdrawn in 1950. The Symphony also provided the score for the 1955 ballet Seraphic Dialogues, the first of three written for Martha Graham. The Trial at Rouen, an opera in two acts, was completed the same year and premiered on NBC television in 1956. This success was followed by The Triumph of Saint Joan, an opera in two acts, in 1958 which revised The Trial at Rouen and added three supplementary sections. The same year he became professor of composition at Mannes College in New York. His academic career was capped through service as Dean of Fine Arts at Boston University in the 1970s. In 1978 he retired and donated his personal archive of manuscripts and papers to the Music Division of The New York Public Library for the Performing Arts.
Dello Joio received many scholarly honors, perhaps most famously a Pulitzer Prize in 1957 for his string orchestra work Meditations on Ecclesiastes and two Guggenheim fellowships. He remained prominent into the 20th Century, actively producing works until his final years. He died in his sleep on July 24, 2008, at age 95 at his home in East Hampton, New York.